"Thank you Mr Abu for enabling a miracle to happen! We are so grateful for all your hard work, support, dedication and patient care. Thank you for being at the birth and looking after us (and for cutting the cord).
Best wishes,
Claire and baby alexander"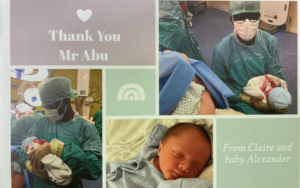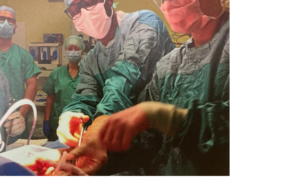 Mr Jaf Abu performed a trachelectomy on Claire after finding early-stage cervical cancer (cancer of the neck of the womb). A trachelectomy is an operation to remove the neck of the womb without removing the womb itself. This is a very delicate operation in itself and  removal of the cervix increases the risk of miscarriage and premature labour. To prevent these complications, Mr Abu would normally also apply a special suture called 'cervical cerclage' by keyhole around the lower portion of the womb that is stitched to the top of the vagina. This way, Claire was able to carry her baby to term and had elective caesarean section at 38 weeks and 5 days gestation.
Nothing is more rewarding than knowing that you have made a huge difference in someone's life.
We wish Claire and baby Alexander all the best for the future.